Croissants From Scratch with Sur La Table (a class review)
Is there anything better than pulling apart a steamy, buttery croissant? Truly – I may have an addiction. But I've never thought I could make croissants from scratch.
This post may contain affiliate links. For more information about what that means, click here. 
For a recent birthday, my husband Craig, who knows my weakness for all things Sur La Table (let's be honest – my weakness is pretty much for all things kitchen-related or gadgety) gifted me a small shopping spree at our local store, along with agreeing to take the class of my choice with me. I chose for us to take Savory and Sweet Croissants because, well, croissants, am I right?
Course Details
The class was $75.00 per person and the description stated that we would make basic croissant dough along with a smoked turkey and cheddar croissant and a pain au chocolat.
Classes run from two to two and a half hours and you are placed with other students in groups of four. The max class size is usually sixteen people.
You'll be sent home with a packet of information, as well as all of the recipes you use in class. Ideally, you can replicate what you cook in class at home, although I haven't yet.
You'll also get a discount that you can use in the store that day, or apply to future classes.
Tips
Wear comfortable shoes because you'll be standing for most of the class.
They do usually provide coffee, snacks, and water. But you might consider bringing your own water bottle or drink to keep at your station.
Bring a collaborative attitude. If you're taking the class with your significant other or with a friend, you'll still be paired with two other students. And if you're taking a class by yourself (which I've also done), you'll be working with three other students. It's no fun for anyone if you're the one who hogs the blender or insists on doing everything. It seems basic, but give everyone a chance to learn and you'll all have more fun. (I think this is just called the don't be a jerk rule)
How I Became a Pastry Chef In Just Two Hours (I wish)
Upon arriving, we were instructed to wash our hands and grab an apron. There was coffee available, as well as a small plate of cheese and crackers to snack on. (I'm always happy when snacks are provided!) The instructor gave us a bit about her background as a pastry chef, and then we dove into the lesson.
She informed us that we would be making croissants from dough that the previous day's class had made, and that we would be making a dough that would be used the next day. This is because the process of making croissants can take several days. I had figured it was an involved process but had no idea it was so lengthy.
Our instructor guided us through combining the ingredients, mixing the dough together, and rolling it out. Then things got real and we learned how to make the butter layer. Our instructor stressed that you must use good butter, like Kerrygold Irish Butter. There's a reason the French don't use margarine for their pastries.
We got to work (and it was work!) pounding a giant blob of butter into a ten-inch (or so) flat square.
When we finished pounding the butter into shape, we then made a "packet" by rolling out the dough larger than the butter slab, placing the slab on top, and folding the dough over the butter. Then we rolled that out and repeated. And repeated again.
Sounds fairly easy, but you have to be careful about the temperature and consistency of the dough and butter as you're folding – the idea is for the butter to spread into, not squirt out through, the dough. Real pastry chefs can fold their croissant dough dozens of times.
I learned that I cannot.
Although I did manage to fold it enough times to be passable.
And as a side note, another thing I learned from the butter pounding and folding is that croissants are really just dough and lots of butter. Okay, I kind of already knew that.  I just did not realize how much butter. It. Is. So. Much. Butter. The amount of butter made Craig not want to eat croissants as often. It made me want to eat them more. Which I proceeded to do a lot of on our next trip to Paris.
The instructor took us through how to divide the dough. Then it was more dough rolling followed by cutting it into triangles that we then, guess what, rolled into the traditional croissant shape. As advertised in the class description, we made some plain croissants, some turkey and cheese, and some chocolate.
Interspersed among all of these steps are various amounts of time the dough needs to be refrigerated or sit – which contributes to a much longer, more laborious process than I could have imagined creating these delicious pastries.
Et Voilà, Croissants!
The croissants went into the oven and the instructor let us loose in the store. I took advantage of the Sur La Table cooking student discount and purchased the silicon baking mat we used in class. I was skeptical that it was going to be anything other than a gadget that would sit on the shelf (and Lord knows, I've got plenty of those in my kitchen), but I've used it for baking cookies a few times since and it's totally worth the money.
We returned to class in time to get the croissants out of the oven, sample our creations, and box up the pastries we had not eaten to bring home (for us, it was about 13 croissants – jackpot!).
The croissants we brought home were not as pretty as the kind you find in a bakery. But they were just as delicious and did not last long once the kids tasted them.
We definitely have a newfound appreciation for the amount of effort that goes into making croissants – any pastry, really. When we were in Maine and sampled excellent croissants at the Standard Baking Co, we marveled at a bakery that could perfect the recipe and process on a daily basis.
Closer to our home, we observed sacks of flour stacked almost to the ceiling in the kitchen at Best Buns Bread Company the last time we were there – presumably to construct their mouth-watering croissants and pastries.
We have yet to try to make croissants from scratch at home, but I am holding out hope it will happen one day.
Was It Worth It?
In short, yes. You're not going to walk out of any Sur La Table cooking class with professional-level skills. But, you're going to learn a lot and have fun for a couple of hours. And likely take home some treats, too.
The instructors are friendly and fun. They do a great job of including everyone in the class. And of teaching you about not just the methods, but about how to use the proper tools and ingredients, too.
If the kitchen isn't where you are most comfortable, like Craig, the classes also give you the confidence to go in armed with a little more fundamental knowledge. I can't wait to sign us up for another class!
xo,
Cameron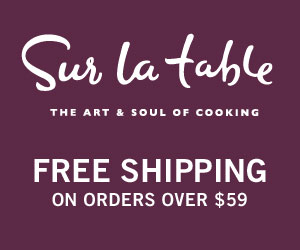 Share this post with friends